Yankee-kun to Megane-chan
Kanji

ヤンキー君とメガネちゃん

Rōmaji

Yankī-kun to Megane-chan

Manga

Author
Published By

Weekly Shōnen Magazine(Japan)
Kodansha(Japan)


Original Run

October 18, 2006 – May 18,2011

Volumes

23 (Volumes)

Anime

Director

Takanari Mahoko

Music by

Nobuchika Teruyuki

Licensed by

Unknown

Studio

Unknown

Network

TBS

English Network

Unknown

Original Run

April 23, 2010 – June 25, 2010

Sequel

October 18, 2006-May 18, 2011

Episodes

10 (Episodes)
Flunk Punk Rumble (ヤンキー君とメガネちゃん, Yankī-kun to Megane-chan, romanized as Yankee-kun to Megane-chan in Japan) is a Japanese manga series by Miki Yoshikawa. The series began as a three-part short story that was later developed into a full series and serialized in Kodansha's Weekly Shōnen Magazine starting October 18, 2006. It ended on May 18, 2011, with a total of 211 chapters. The manga is collected into tankōbon volumes by Kodansha, which has released 22 volumes and an official guidebook as of April 15, 2011. Reviews of the series have been very positive.[4] The series has been licensed in Chinese and English by the Singaporean publishing company Chuang Yi under the title Flunk Punk Rumble. As of February 24, 2010, they have released nine volumes in Chinese and three in English.
Plot
[
]
Shinagawa Daichi, was just a Yankee (Japanese term for delinquent) who wanted nothing to do with his high school life. Adachi Hana, the dedicated class representative, however would not allow it and constantly bothers him to be involved in school life. Shinagawa is first confused on why she keeps pestering him until he discovers her secret. While she may look like a typical class representative stereotype, Adachi is actually not very smart and lacks common sense, and Shinagawa eventually learns that Adachi is a former delinquent. Regretting being a yankee during her middle school years, Adachi decides to change her ways to achieve her dream of becoming the best class representative. She decides to help Shinagawa so he will not continue to make the same mistake that she did. Thus begins the adventures of these two unlikely friends and their classmates at Monshiro High School.
Manga
[
]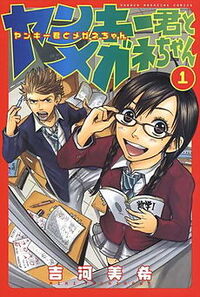 Main article: Volumes and Chapters
Yankee-kun to Megane-chan was a manga written and illustrated by Miki Yoshikawa. There is also a one-shot called Fairy Megane (volume #11) containing some of the characters from this manga as well as some Fairy Tail characters as part of a crossover. The title is derived from combining Yankee-kun to Megane-chan and Fairy Tail.
Drama
[
]
Main article:

List of Episodes
Shinagawa Daichi used to be a good student who has now become a delinquent, while class president Adachi Hana was a delinquent who is now trying to move on. Her secret is discovered by Shinagawa, but she involves herself trying to correct his ways. [to Megane-chan drama series].
Music
[
]
A live action drama began airing on April 23, 2010 and ran for a total of 10 episodes and which the theme song was Loose Leaf by Hilcrhyme and was put in the show by Nobuchika Teruyuki
episodes.